American Sportfishing Association Gives Anglers a Powerful Voice
FOR IMMEDIATE RELEASE
American Sportfishing Association Gives Anglers a Powerful Voice
 NPAA Annual Conference in Ft. Myers, FL features expanded partnership with ASA; VP of ASA Government Affairs, Mike Leonard, to speak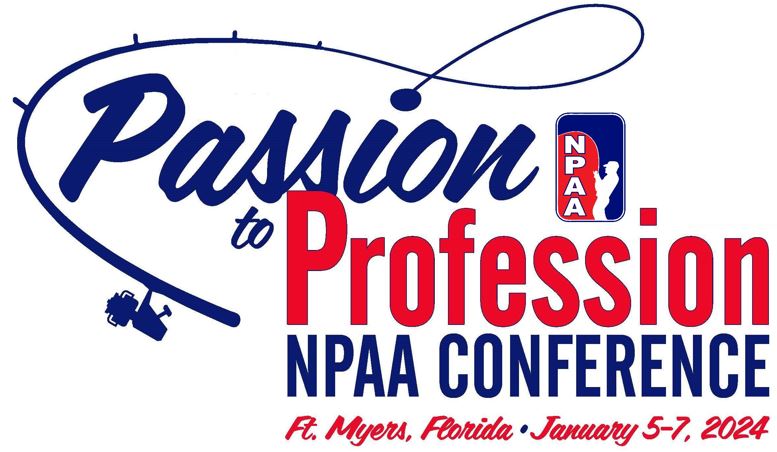 Forestville, WI (November 13, 2023) – The National Professional Anglers Association (NPAA) is proud to announce an expanded relationship with the American Sportfishing Association (ASA) at its upcoming 2024 "Passion to Profession" NPAA Conference in Ft. Myers, Florida, January 5 – 7, 2024. (Discounted pre-registration rates are currently in effect but limited capacity is filling up fast.)
"For all of us working to earn a living in the sportfishing industry, networking is critical, and building the relationship between NPAA's diverse membership and ASA is an effective networking strategy. Individual anglers cannot lobby for the future of the sport on their own. They must become part of this larger network," says NPAA President, Pat Neu.
ASA VP of Government Affairs, Mike Leonard, has been with ASA for nearly 15 years, growing the relationship between the ASA and greater NPAA membership over his tenure.
"I have worked with NPAA President, Pat Neu, over the past 10 years," notes Leonard. "Pat serves on our Government Affairs Committee and is active on our Freshwater subcommittee. His expertise—as well as the entire NPAA network—has funneled up information from the ground level concerning tournament regulations, invasive species concerns, and other issues that impact sportfishing."
Leonard continues: "While ASA works extensively with regional fishery management councils in Washington D.C., the close relationship with the NPAA keeps an ear to the ground to help us identify and prioritize everything from local to far-reaching, national issues. It's been a good partnership, only strengthened through the years as NPAA membership has become more far-reaching and diverse." 
Mike Leonard 
ASA VP of Government Affairs
ASA SPEAKS IN FT. MYERS
Looking forward to January in Ft. Myers, Leonard says the ASA is proud to be involved as a sponsor of the NPAA "Passion to Profession" Conference. 
"Our current president and past president have spoken at the conference. The in-person relationship has been great. We've learned a lot by attending and have tried to share insights from our side, too," remarks Leonard. 
"I will be speaking at the upcoming conference, addressing how NPAA members can increase their voice in ASA work. I oversee the ASA Government Affairs Program so my plan is to speak on why fisheries policies and regulations are so important to the future of our sport – and why we need NPAA members to pay attention and use their voices and networks to educate the larger fishing public on the opportunities to influence policy and regulations that have an impact on fishing access, fisheries conservation, trade and commerce, etc. There's a lot going on and most anglers have no idea how many regulations, policies, and laws affect fishing—and require an organization like ours to manage them to ensure anglers have the opportunity to access the vast amount of public water we have in this country."
Leonard continues: "The NPAA is a powerful organization of people who spend a lot of time on the water and live and breathe fishing every day. From our vantage, we believe it's critical that all sportfishing professionals join NPAA and gain a greater understanding of what's going on regionally and nationally with our fisheries. NPAA membership growth will create an even more influential partnership we can leverage to explore issues impacting us collectively as anglers – leading to better management of our fisheries and resources, which impacts the broader fishing community." 
NPAA President, Pat Neu, adds: "Having NPAA represented on the ASA Government Affairs Committee is vital to the future of sportfishing. Having the ability to participate and contribute to the work done by ASA on this committee is probably the biggest intangible that NPAA members have with their membership. It gives them a voice on national concerns and opportunities."
"This is why we're so excited to have Mike Leonard speak at the upcoming conference," says Neu. "Mike will address how all NPAA members can become watchdogs for our sport by monitoring what's going on related to sportfishing in their specific regions."
Neu continues: "For example, if one NPAA member hadn't recently reached out to me to express concern over proposed changes in commercial harvest of gamefish in Michigan, we wouldn't have been able to work with the ASA and other affiliated organizations to lobby against that legislation."
What Can You Do? 
The 1,400-member non-profit sportfishing trade association, NPAA, is asking guides, captains, tournament anglers, industry reps, sales/marketing professionals, entrepreneurs, educators and other recreational fishing professionals to join them in creating a united front as a member of an organization that exists to benefit its members, partners, and the sport.
Become an NPAA member if you aren't already—and pre-register now to attend the 2024 NPAA Conference in Ft. Myers, Florida, January 5 – 7, 2024.For information on joining the NPAA and exploring the many benefits membership provides, visit www.npaa.net 
About the National Professional Anglers Association
The National Professional Anglers Association (NPAA) is a non-profit, member-based association dedicated to sportfishing. The NPAA's membership is composed of professional guides, tournament anglers, angler educators and sportfishing/marine industry professionals who are passionate about the sport. For more NPAA partner, member and industry news, go to www.npaa.net
Share this post: